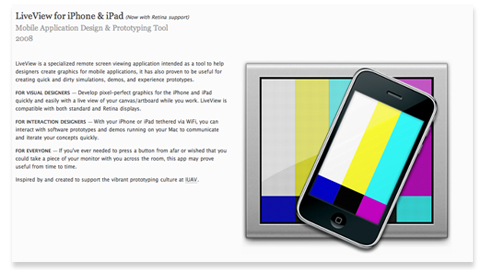 Live View ist eine echt klasse remote iPhone/iPad App, um die Wirkung von Mockups oder auch klickbaren Prototypen via eines Desktop Live-Screencasts direkt auf dem iPhone oder iPad zu testen.
Die App besteht aus zwei Teilen, der iPhone/iPad App Live View und der Desktop App, dem Live View Screencaster.
Besonders hervorzuheben ist auch die Funktion "Interpret Touches as Mouse Events" . So kann man Interaktionen von klickbare Prototypen/Wireframes direkt auf dem iPhone testen.
Nicholas Zambetti, der das Tool entwickelt hat, sagt dazu auf seiner Webseite:
For Visual Designers — Develop pixel–perfect graphics for the iPhone and iPad quickly and easily with a live view of your canvas/artboard while you work. LiveView is compatible with both standard and Retina displays.
For Interaction Designers — With your iPhone or iPad tethered via WiFi, you can interact with software prototypes and demos running on your Mac to communicate and iterate your concepts quickly.
For Everyone — If you've ever needed to press a button from afar or wished that you could take a piece of your monitor with you across the room, this app may prove useful from time to time.

Cool! :)