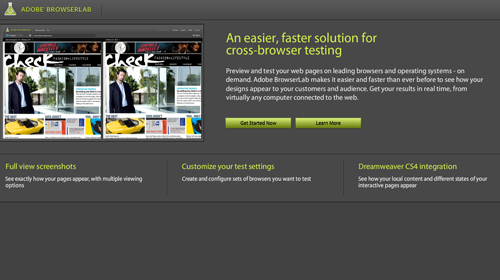 Neu ist die Idee ja nicht, das Webentwickler Webseiten in verschiedenen Browsern & unterschiedl. Betriebssystemen testen. Tools dafür gibt es einige: z.B. Browsercamp.com
Xenocode Browser Sandbox ( nur f. windows ), & IE Tester

Adobe springt nun mit auf den Zug auf und bietet mit Browserlabs einen Dienst, der Screenshots von der Webseite erstellt, die sich nebeneinander, untereinander und transparent übereinander anordnen lassen um einen besseren Vergleich zu bekommen, sowie eine mögliche Integration in Dreamweaver CS4.
Zur Zeit sind folgende Browserdarstellungen möglich: Firefox 2.X and 3.X (Windows XP and Mac OS X), Internet Explorer 6.X and 7.X (Windows XP) sowie Safari 3.X (Mac OS X), die Anzahl der simulierten Browser soll allerdings erhöht werden.
Gerade läuft die erste freie Preview Test–Phase, diese ist leider aber schon voll – aber es wird wohl ab Juli einige weitere freie Testaccounts geben. Der Dienst soll wohl auch kostenpflichtig werden.
Ich persönlich finde es zwar eine ganz nette Ausweichmöglichkeit – so zur groben Ansicht – quick & dirty Screenshot-Testing zu betreiben, aber es ist mir einfach zu statisch und zu wenig interaktiv. Ich muss da was klicken & machen können, zumal bei grossen Webseiten mit vielen unterschiedlichen Seitendarstellungen der Aufwand zu enorm sein dürfte (von der Dauer mal ganz zu schweigen).
Zudem sehe ich keinen Grund, für den Dienst zu zahlen, wenn ich kostenlose vergleichbare Testmöglichkeiten (wie z.B Browsercamp) habe.
Wie seht ihr das? Wie testet ihr?