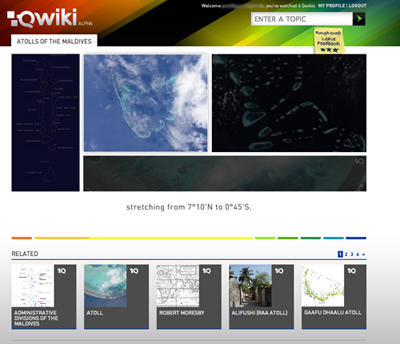 "Information becomes an Experience that I can watch"
The Future is now. Qwiki ist ein neues, hochinteraktives, visuelles Wiki, welches sich zum Ziel gesetzt hat, einen neuen Weg in Punkto Informationsaufnahme/das Erleben von Information zu bestreiten.
Interessant daran ist, wo es seine Daten herbezieht – nämlich ausschliesslich dem Internet selbst.
Ich selbst probiere es gerade aus – die mechanische Stimme der Dame ist schon etwas spooky – hat wirklich alles einen etwas futuristischen Touch, die Möglichkeiten/Ausbaufähigkeiten sind aber denke ich superspannend, Stichwort: Verbindung mit Augmented Reality etc…
Mashable vergibt gerade Invites, um das Tool in der alpha Version zu testen.
Qwiki Vorstellung auf der TechCrunch:

Qwiki at TechCrunch Disrupt from Qwiki on Vimeo.
( via mashable )