Google published a research report on how consumers use different devices together and navigating the new multi-screen world. Understanding Cross-Platform Consumer Behavior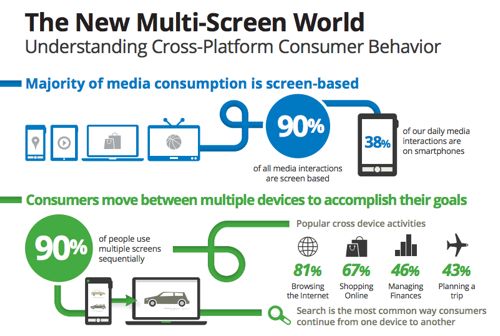 Imagine you're on your way home sitting in the train book your next trip online via your smartphone – wooops- connection loss! You're coming home, sitting on your desktop device /tablet whatever-device and could proceed just from where you left without running through the whole process.
Or you're watching a video on your desktop device, stopping due some work etc.. then later switching to your smartphone and there's a seamless changeover and you could just watch further from where you stopped.
"90% of people move between devices to accomplish a goal, whether that's on smartphones, PCs, tablets or TV. We set out to learn not just how much of our media consumption happens on screens, but also how we use these multiple devices together, and what that means for the way that businesses connect with consumers.
…so making experiences seamless between devices is key"
Blog Post about the topic:http://googlemobileads.blogspot.de/2012/08/navigating-new-multi-screen-world.html
Full report: http://services.google.com/fh/files/misc/multiscreenworld_final.pdf